The ultimate shock for 6 areas of the body
Body Shock is an innovative personalized treatment with incredible results on your body, The combination of active mesotherapeutic ingredients and nanotechnology that we create is 100% adapted and fully absorbable by the body so that with special techniques it breaks down individually in every part of your body even in face. Body Shock works based on the circadian biorhythm, so you feel the effect of the treatment for 48 hours after its application. The innovation of this treatment is the creation of a membrane on the epidermis after the penetration of the active ingredients, which prevents their transdermal loss and allows the continuation of their action.
See the action of the treatment at 6 different points:
Double Chin: Lipolysis and Firming
Chest: Tightening due to loose connective tissue
Hands: Tightening of loose skin
Stomach (girth – buns):  breaking down accumulated fat
Buttocks: Addressing sagging and volume reduction
Legs: Treatment of retention, cellulite, stretch marks / Stimulation of collagen / Weight reduction
The ultimate shock for 6 areas of the body
Keep in mind, during the same session, more than one area can be treated, so that a more complete result can be achieved in a fairly short period of time.

Because Bodyshock by Mesoestetic is a complete treatment that we can enjoy in the institute and then continue at home… Depending on the problem we are facing with our figure, our esthetician will advise us on the approach that suits us best.

The basis of the treatment at the institute is the combination of professional products containing high concentrations of active ingredients and six massage techniques developed exclusively by Mesoestetic to enhance the penetration of these active ingredients and increase the effectiveness of the treatment.

The second phase of Mesoestetic's Bodyshock treatment consists of the application of home care products during and after the professional treatment. You see, the consistency and the combination of the active ingredients are the necessary "supplies" to achieve the goals.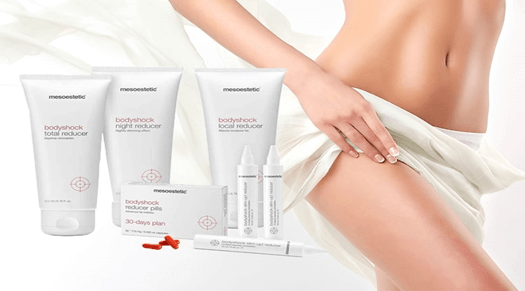 Bodyshock Total Reducer
This cream in gel form reduces cellulite by influencing fat cell differentiation, lipolysis and tissue drainage.
Purpose: Prevent, slow down and maintain
How does it work? The high concentration of carnitine helps to reduce fat cells and prevents the accumulation of fat.
When is it applied? It is used once a day in the morning.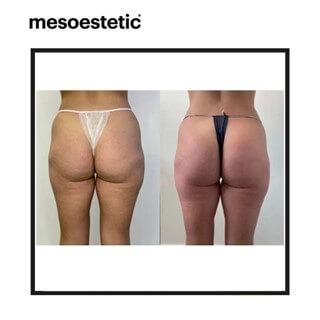 Bodyshock Push-up
This cream stimulates the regeneration, firmness and elasticity of the skin, especially on the chest, arms, double chin and buttocks.
You apply it once a day.