VENUS LEGACY
Body Contouring
Fight cellulite instantly.
The revolutionary technology of Venus Legacy aims to sculpt the body (Body Contouring) and is based on a combination of multiple tightening techniques, mainly with the application of radio frequency, which is channeled under the skin, reaching into the fat and underlying tissues. Venus Legacy technology is the evolution of Venus freeze and has FDA approval, the American health organization. With the combined action of radio frequency, heat generation, magnetic fields and suction, a quadruple activation of the skin and underlying tissues is caused, so that the effect is even more enhanced. In addition to tightening the skin and tissues, Legacy manages to do a mild lipolysis, while at the same time fighting cellulite by choosing the appropriate setting
Overall, this non-invasive method is suitable for:
Non-surgical liposuction
Cellulite reduction
Wrinkle reduction
Circumference reduction
Skin tightening
VENUS LEAGACY
Body Contouring
Fight cellulite instantly.
Who is radiofrequency tightening suitable for?
Practically, radiofrequency ablation can be applied to anyone, with the exception of people who have a pacemaker, heart disease, or some orthopedic materials near the application area. The main areas of application are the following:
Abdomen: corrects both sagging and cellulite, reducing to some extent the fat content. The result is highly satisfactory.
Thighs: on the inner surface of the thighs, sagging is mainly treated, while on the front and back surface, the treatment aims to reduce cellulite.
Buttocks: application to the buttocks greatly corrects cellulite, offering smoothing and firming of the skin.
Arms: on the arms the treatment is aimed at reducing sagging to limit wrinkling of the skin on the front surface.
Face: Thanks to the special heads, tightening of the face is possible. It concerns both the correction of the skin and the improvement of the contour of the face.
Neck: Using a special program, the improvement of the neck is very satisfactory, similar to the result after using threads.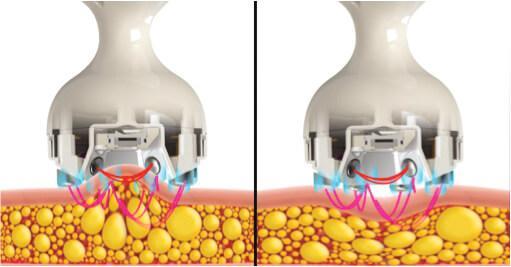 The tightening process with Venus Legacy
The great advantage of radio frequency tightening technology is its simple application and excellent tolerance. By selecting the appropriate head and program it can be used for a variety of areas and problems, and can be applied to multiple areas in the same conference. Another positive is the short session time, which for an area like the abdomen is 20 minutes.
Unlike older tightening technologies, radio frequencies require fewer sessions, namely up to 6 for the face or 8-10 for the body, which are repeated once a week.
Compared to other tightening methods, the results in RF tightening are more immediate and more visible, already after the second-third session. Wrinkle and sagging reduction, firmer and tighter skin, girth reduction and profile improvement, all with zero recovery and zero pain. In addition to the great satisfaction of our own customers, the satisfaction of people who have tried Venus Legacy around the world is very high, with a satisfaction rating of 80% and a lot of positive impressions